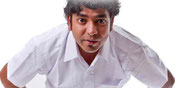 Jayakumar born 1983 in Kerala / India
Coach for Indian philosophy
and Lifestyle, Ayurveda Practitioner
2010 to 2011 Education for Ayurveda practicioner.
Diploma course from " AYUSH BHAVAN, ayurvedic hospital''.
Dr. ANAND P. NAIR BAMS, Chief consultant.
2003 to 2010 Guest support in Ayurveda Resort "Thapovan heritage home'' Trivandrum, Kerala.
2002 to 2003 Education in Ayurveda Panchakarma Treatments from Teacher Mr. Adji, Panangodu/Tvm.
1999 to 2004 Altar server in a Devi Hindu-temple in Kerala.
1989 to 1999 School education Model High school Venganoor, Trivandrum/Kerala in India.
Further educations:
2003 to 2006 Education about flowerbeds from one of the old wise men named Madhaven.
2014 Yoga-education, Veda Academy Mullassery, Thrissur, Kerala.